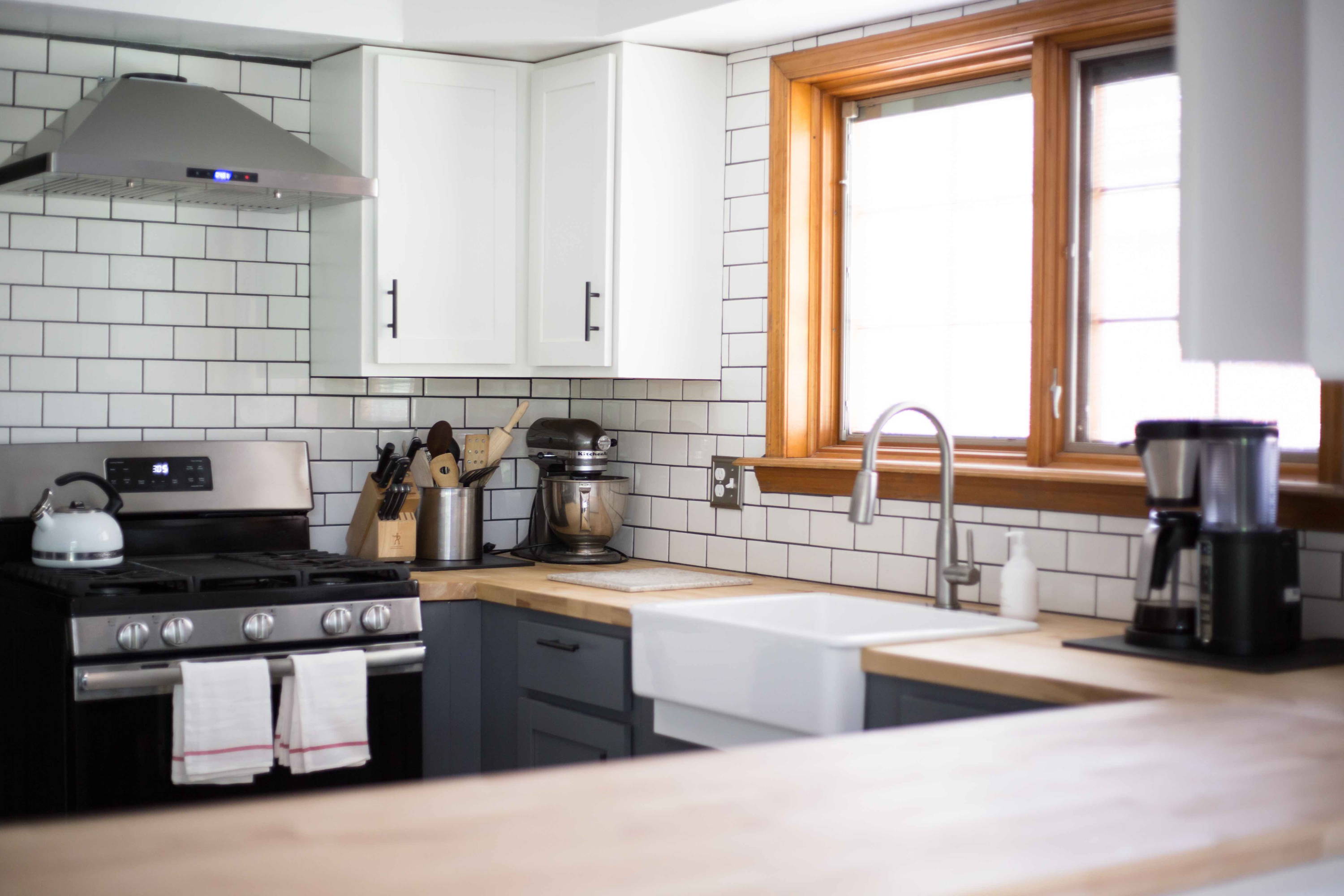 Are you looking to update your kitchen but don't want to spend a fortune on countertops? We were in the same place when we moved into our first home. We knew that we would need to replace the countertops but we didn't want to spend our whole renovation budget on granite. As I researched cheaper countertop ideas, I came across butcher block countertops and fell in love with them. Not only do they have a modern look but they are super durable. It has been over a year since we installed them and we still love them. From our experience, here are some helpful tips, frequently asked questions, benefits and drawbacks to butcher block countertops.
Where to Buy:

You can get butcher block countertops at almost any home improvement stores. You can also get them from places like Ikea. However, we found that the best place to purchase butcher block countertops was from Menards. Not only were they they best deal but they were also the best quality. One of the factors that I love about Menards butcher block is that is solid wood all the way through. Menards Butcher Block Top 25" Wide x 96" Long x 1.5" Thick $179.00 per piece
Best Sinks for Butcher Block:
One of the things that we didn't think about when we first started planning and installing the butcher block was what kind of sink would be the best for installation and durability purposes. One of the things that we learned was that a sink that sets on top of the butcher block is better than the butcher block setting on top of the sink. If you look at the picture of our kitchen, you will understand what I'm talking about. Not only is it much easier to install a sink that sits on top of the butcher block but it is much easier to keep clean. We purchased this sink from Ikea and have loved it!Ikea HAVSEN Apron front sink, white, 25x19"$189.00
Are Butcher Block Counters Easy to Keep Clean?
One of the most common questions associated with butcher block is whether it can be easily cleaned. The short answer is yes. As long as you clean the countertop immediately after preparing meals, germs will not be able to take root and grow in the wood.
How Durable is Butcher Block?
Butcher block is extremely durable. You can place hot pans on it without worrying about burns or stains. It is recommended to to not put pots of boiling water or oil on butcher block because they retain their heat longer and may burn the wood.
Can I Refinish/Stain my Butcher Block?
Butcher block is easy to refinish. If your countertop is starting to look scuffed or stained, you can lightly sand with a hand sander and then just apply a new coat of butcher block oil and it will look like new. I personally like the natural wood color but many people stain their butcher block.
Do You have to be Careful with what you spill on Butcher Block?
You have to be a little careful of what you let drip or spill on butcher block countertops (especially if you have more natural finish to them). Things like oil, dark liquids, and black coffee can cause stains. However, like I mentioned above, if you do get stains, butcher block is very easy to sand and refinish.
Does Butcher Block Require a lot of Care?
Because butcher block is made of wood, I have read you have to be careful to not let your butcher block dry out. It is recommended to oil the top of your butcher block every 6-12 month to keep it from splitting.